Inexpensive country sofa from pallets
Stage 1: Materials and Tools
10 euro pallets
"Continuous" pallets
List of materials
25 pallets (pallets): 10 euros and 15 others, without cracks (gaps) between adjacent boards. Please note that they turned out to be of a different size. As you can see, euro pallets are very used, which is why they were so cheap, but for our purpose they were quite suitable
varnishes, paints, antiseptics (here already at your choice) to protect the wood and give aesthetic appearance
fastener
Tool list
Cordless screwdriver
Grinding wheel
Paintbrush or spray gun (spray)
Level
Saw
Cable
Garden tools: shovel, rake, ... (depends on where you will build)
Stage 2: Landscape Works
Before
We use antiseptic
Spread the pallets in place to see what the terrace will look like.
Swaps pallets in places to get the necessary shape and fit them to each other.
When you find the pallet installation scheme that suits you
mark the ground on the outer edge of the pallets.We used a shovel, which stuck in the sod.
remember the location of each pallet, you can number them. We photographed to remember.
Remove the pallets and remove all the sod in the marked area.
With the help of a shovel, a rake and maybe choppers, level the surface and tamp it down. To control the level of use.
We decompose pallets
We spread the pallets one by one, carefully leveling the height
we twist pallets with each other
better to do this with an assistant
We use a grinding wheel to clean the resulting surface. To check, you can walk barefoot, of course, if you are sure that you have thoroughly cleaned everything up and do not get a splinter 🙂
We saturate everything with antiseptic, if there is a desire, then it can be painted (after the antiseptic has dried)
So, we finished the floor of our terrace. It took all day and I burned in the sun, but it was worth it.
Stage 3: Sofa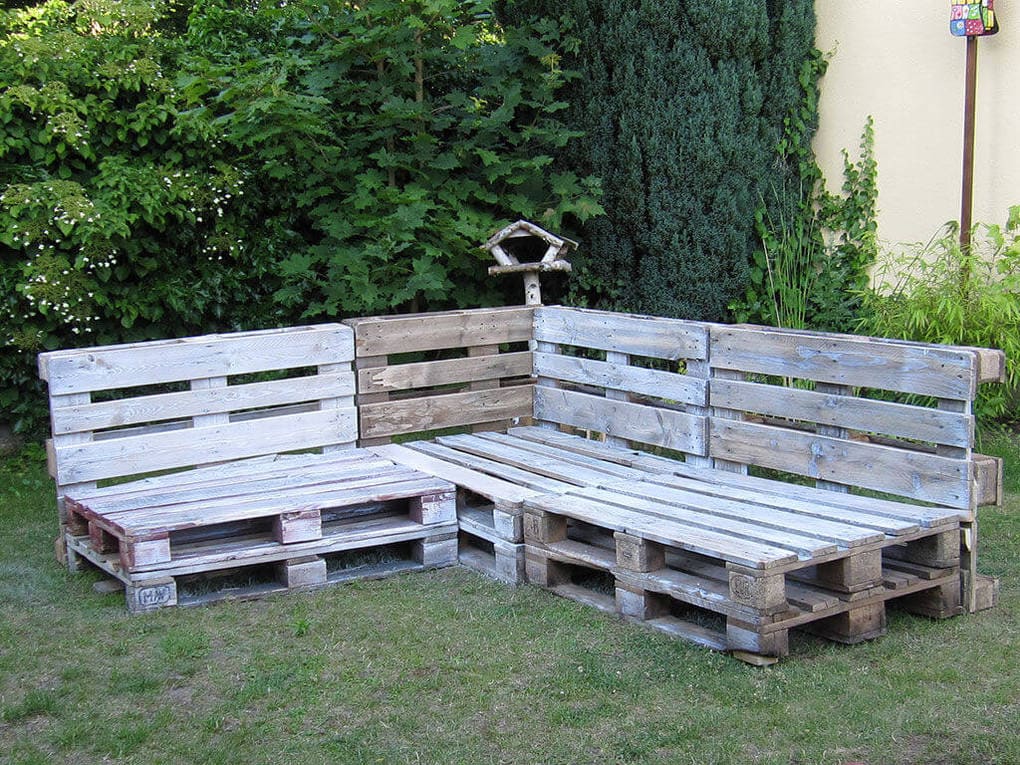 Each euro pallets has a size of 120cm x 80cm.
Our summer cottage consists of three sections. Each section consists of two pallets (stacked on top of each other) as a seat and one pallet as a back of a sofa.
Thus, from 10 euro pallets, we can make a corner sofa of 200 cm x 240 cm. Three sections of 3 pallets + one tray for the backrest in the corner (see sketch).
We roll the pallets together, but we don't put the sections together, we'll do this when we move our sofa to the terrace.
We painted our sofa with spray paint. This gave a nice scuff effect and antiquity. In addition, it is much more convenient to paint from a can, you can reach hard-to-reach places and adjust the amount of paint.
Stage 4: Installing a sofa on the terrace
We installed the sofa section on the terrace and fixed it all together.
We have three small pallets left, which we can stack on top of each other, and we will have a great table.
The photos show that the sofa is not fully painted and there are no pillows on it. The fact is that the paint has run out, and the mattresses have not been purchased yet. But after two days of work we so wanted to try our sofa from pallets, which we made with our own hands, that we collected our pillows, mattresses from the house and spread them on the couch. In the evening, with candles and lamps, it was very cozy.
Stage 5: The finished sofa is not a terrace
A few days later we painted everything else and bought ready-made seat cushions, which are usually used for garden chairs. They are nicely located on our pallets.
We thought about using mattresses with foam inside or special garden materials, but they were too expensive. You can use the usual old wadded mattresses or buy new ones, they are inexpensive. Initially, we assumed two mattresses on the seat (see sketch), one 160 cm x 70 cm in size, the second 200 cm x 70 cm. Together they cost about 1,300 rubles. There was a decent choice of colors, not just striped ones, as we used to do from Soviet times J. But then we found these wonderful bedding.
Of course, we have to clean the mattresses or cover them when it rains.
Related News
What delicious can be made from unusual sea-buckthorn
Where to buy a cool New Year sweater
Now everyone can buy tiny houses from containers on Amazon
Spaghetti with prawns
If the husband is a gamer
Life hacking for quick waking up: morning vigor without coffee and tea
Radiator for low-power transistors